Why Choose an Owens Corning Platinum Preferred Contractor?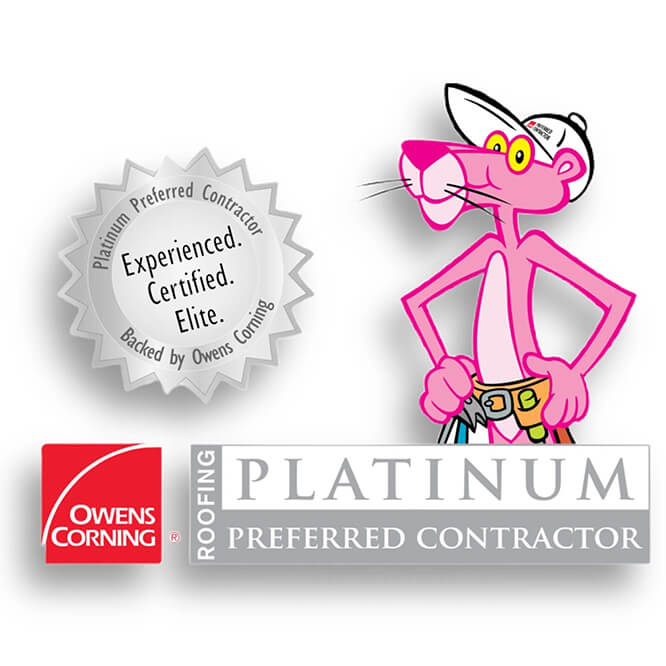 When searching for a reputable roofing company, it's important to find one that offers the most value for your investment. Owens Corning, a global leader in building and industrial materials, understands this and has created their Platinum Preferred Contractor program.
Owens Corning is renowned for their high-quality materials that not only enhance your home's value but are also built to last. To maintain the quality of their brand, Owens Corning trains roofers in the proper installation of their products and certifies them based on their level of expertise. When your roof is installed by a certified Owens Corning roofing contractor, you can trust that the contractor has been vetted and meets Owens Corning's strict standards.
Platinum Preferred Contractors are the top tier of Owens Corning's select network of contractors. They are carefully selected based on stringent qualifications and offer exclusive benefits only available at the Platinum level. Ridge Valley Exteriors Inc. is proud to be a Platinum Preferred Contractor.
Platinum Preferred Contractors
Carry At Least $1 Million In General Liability Insurance
Having sufficient liability insurance is a crucial consideration when selecting a roofing contractor. If an accident occurs during the installation or repair of your roof, you could be held responsible for any damages if the contractor is uninsured or lacks adequate coverage.
Choosing an Owens Corning Platinum Preferred contractor ensures peace of mind, as they have certified proof of general liability insurance at a minimum of $1 million, removing the worry of being held liable for mistakes.
Hold All Required Licenses For Local, State, And Federal Law
Unlicensed roofing contractors may leave you at risk of having an out-of-code roof and the added expense of having to hire a second contractor to fix the mistakes. Ensure your contractor has the necessary, up-to-date licenses as required by local, state, and federal regulations. Choosing an Owens Corning Platinum Preferred Contractor guarantees a properly licensed and skilled professional to get the job done right the first time.
Feature Financial Stability & Excellent Customer Service
Never be concerned about a contractor's financial stability when working with an Owens Corning Platinum Preferred Contractor. These contractors have been thoroughly screened and verified to ensure they are reliable and stable companies. You can trust that they will stick to their estimate, complete the job on time, and meet all your expectations.
Furthermore, to retain their Platinum status, a contractor must have a high business rating, exceeding expectations. Owens Corning sends surveys directly to clients after a service is performed, with no input from the company, to determine the contractor's performance. If customer feedback indicates a decline in the contractor's service quality, their Platinum status may be revoked.
Have Passed Strict Installation & Workmanship Inspections
Owens Corning Platinum Preferred Contractors undergo strict scrutiny to ensure they meet the company's standards. Owens Corning representatives will conduct random site visits to monitor the roof installations and ensure that the contractors are following proper installation procedures and standards as outlined in their training. This sets them apart from other contractors and demonstrates their commitment to delivering high-quality work.
Are Able To Provide All Of Owens Corning Warranties & Workmanship Coverage
Owens Corning Platinum Preferred Contractors are able to offer Owens Corning's full range of warranty options, including the Platinum Protection Limited Warranty. This warranty enhances workmanship coverage from none to a lifetime guarantee, safeguarding homeowners against any defective installation of an Owens Corning roofing system. Only Owens Corning Platinum or Preferred contractors can offer this level of workmanship coverage.
Moreover, an extended roof warranty with lifetime workmanship coverage can increase your home's value. The warranty can be transferred from one owner to another within 60 days of a real estate transfer, providing added value to prospective buyers.